Web 3.0 Or Web 3
Web 3.0 (Web3) is the third generation of web technology evolution. The web, also known as the World Wide Web, is the internet's foundational layer, providing website and application services.
As Web 3.0 is still evolving and being defined, there is no universally accepted, canonical definition. Web 3.0 will place a heavy emphasis on decentralized applications and make extensive use of blockchain-based technologies, this much is certain. Web 3.0 will also employ machine learning and artificial intelligence (AI) to facilitate the development of more intelligent and adaptable applications.
The concept of a semantic web is an additional component of the evolving definition of Web 3.0. Tim Berners-Lee, the creator of the web, has advocated for the incorporation of semantic technology into the web.
It took over a decade to transition from Web 1.0 to Web 2.0, and it is anticipated that Web 3.0 will take at least as long, if not longer, to fully implement and reshape the web.
If the trend of change is traced from Web 1.0, a static information provider where people read websites but rarely interacted with them, to Web 2.0, an interactive and social web that enables user collaboration, it can be assumed that Web 3.0 will alter both how websites are created and how users interact with them.
Hypertext Markup Language (HTML) defines the layout and delivery of websites using Web 1.0 and Web 2.0 technologies. HTML will continue to be a foundational layer in Web 3.0, but the manner in which it connects to data sources and the location of those data sources may differ from previous generations of the web.
In the Web 2.0 era, many websites and nearly all applications rely on a centralized database to deliver data and enable functionality. In Web 3.0, applications and services utilize a decentralized blockchain instead of a centralized database. The fundamental concept behind blockchain is that there is no arbitrary central authority, but rather a distributed consensus.
The concept of a decentralized autonomous organization is an emerging governance ideal within the blockchain and Web 3.0 community (DAO). In an attempt at decentralization, Web 3.0 technologies and communities provide a form of self-governance for DAOs.
Web 3.0 is fundamentally compatible with cryptocurrencies, more so than fiat currencies. Web 3.0 enables finance and the ability to pay for goods and services with a decentralized form of payment through the use of cryptocurrencies, which are built and enabled on blockchain technology.
Web 1.0 and Web 2.0 were constructed primarily with IPv4 addressing space. Web 3.0 requires more Internet addresses, which IPv6 provides, as a result of the Internet's exponential growth over the past few decades.
Web 3.0 may be built with AI, semantic web, and pervasive properties in mind. The motivation behind utilizing AI is to provide faster, more relevant data to end users. A website employing AI should be able to filter and present the data it believes a particular user will find relevant. Social bookmarking as a search engine can provide better results than Google because the results are based on user votes. However, these outcomes are also susceptible to human manipulation. AI could be used to distinguish between authentic and fake results, producing results comparable to social bookmarking and social media but without negative feedback.
A web powered by artificial intelligence will also include virtual assistants, a feature that is already emerging on devices and through third-party apps.
The goal of the semantic web is to organize and store data in a way that teaches a computer system what specific data means. In other words, a website should be able to comprehend search queries in the same manner as a human, enabling it to generate and distribute superior content. This system will also use AI; the semantic web will teach a computer what the data means, and then AI will take the information and use it.
The third generation of the web will likely be characterized by several key Web 3.0 characteristics, including the following:
• Decentralized. Web 3.0 will be decentralized, as opposed to the first two generations of the web, where governance and applications were largely centralized. Applications and services will be enabled through a decentralized method in which there is no central authority.
• Blockchain-based. The blockchain facilitates the development of decentralized applications and services. With blockchain, data and connections between services are distributed in a manner distinct from centralized database infrastructure. In a decentralized world, blockchain can also enable an immutable ledger of transactions and activity, contributing to verifiable authenticity.
• Cryptocurrency-enabled. Utilization of cryptocurrencies is a defining characteristic of Web 3.0 services and largely replaces the use of fiat currency.
• Autonomous and artificially intelligent. Web 3.0 is characterized by a significant increase in automation, which will be driven primarily by artificial intelligence.
• Web 3.0 is the successor to the previous two web generations.
• In 1989, Tim Berners-Lee invented and defined the first generation of the World Wide Web, sometimes known as Web 1.0. Web 1.0 focused on basic connectivity and accessibility across static websites. Tim O'Reilly coined the term Web 2.0 in approximately 2004 to describe the second generation of the Internet.
• Websites and applications that utilize user-generated content for end users constitute Web 2.0. Numerous websites currently employ Web 2.0, which focuses primarily on user interaction and collaboration. Web 2.0 is also concerned with expanding network connectivity and communication channels.
The distinction between Web 2.0 and 3.0 is that Web 3.0 emphasizes the use of technologies such as machine learning and artificial intelligence to provide relevant content to each user, rather than relying solely on the content provided by other end users. Web 2.0 enables users to contribute and sometimes collaborate on site content, whereas Web 3.0 will likely delegate these tasks to the semantic web and artificial intelligence technologies. Web 3.0 places an emphasis on decentralized services and authority, in stark contrast to Web 2.0's centralization.
| | | |
| --- | --- | --- |
| Web 1.0 | Web 2.0 | Web 3.0 |
| Created in 1989 by Tim Berners-Lee | Term coined by Tim O'Reilly in 2004 | Modern usage with blockchain defined by Gavin Wood, co-founder of Ethereum, in 2014 |
| Static website content | Dynamic content and user input | Semantic content that can benefit from AI |
| Information delivery | Social networks | Metaverse worlds |
| Centralized infrastructure | Cloud utility infrastructure that is still largely centralized | Decentralized, edge computing and peer-to-peer |
| Relational database-driven content and application delivery | Relational database-driven content and application delivery | Blockchain-based distributed services |
Internet 3.0 applications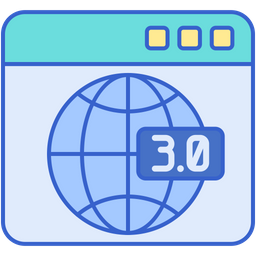 With blockchain as its foundation, Web 3.0 enables an increasing variety of new applications and services, including the following:
• NFT. Nonfungible tokens (NFTs) are tokens stored in a blockchain with a cryptographic hash, making each token unit unique.
• DeFi. Decentralized finance (DeFi) is an emerging Web 3.0 use case in which decentralized blockchain is used to enable financial services outside the confines of the traditional centralized banking infrastructure.
• Cryptocurrency. Cryptocurrencies such as Bitcoin are Web 3.0 applications that aim to create a new monetary system distinct from the traditional fiat currency system.
• dApp. Decentralized applications (dApps) are blockchain-based applications that utilize smart contracts to enable programmatic service delivery that is recorded on an immutable ledger.
• Cross-chain bridges In the Web 3.0 universe, multiple blockchains exist, and cross-chain bridges enable a degree of interoperability between them.
• DAOs. DAOs have the potential to become the organizing entities for Web 3.0 services, providing decentralized structure and governance.